Full moon affecting the tides still, and very high at St Clair.
Sea wall 'foam fireworks' display again ...
I did take some sequences the other day of the seawall bashing, and tried to paste them together in animation shop on the old computer, but when uploaded to photobucket the last three frames came out with black spots through them.. just got some expert advice on my fopah with the animation, and thanks to my awesome sis, here it is...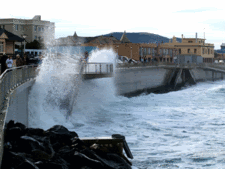 Pretty easy to see how that set of steps got taken out.